On our Year 4 page, you will find information about our current units of learning, homework, learning challenge questions, PE kit requirements, as well as any other information you may need.
In Year 4, we cover six fantastic units of learning:
Autumn 1: How did Britain change between the end of the Iron Age and the end of the Roman occupation?
Autumn 2: How are mountains formed and what causes an earthquake or volcano?
Spring 1: What did the Ancient Greeks bring to the world?
Spring 2: Why do so many people go to the Mediterranean for their holidays?
States Of Matter Knowledge Organiser
Summer 1: How did the Industrial Revolution shape the UK we know today?
Summer 2 : How do we energise ourselves in the UK?
Meet the Teaching Staff
Mr Bandy-Webb – Much the Miller's Son (4ABW)
Mrs Smy – Merry Men (4JS)
We are also fortunate to be supported by:
Miss Topliss
Mr Unwin (Sports Coach)
Mrs Willis (Language and Music Expert)
Homework:
We endeavour to provide the children with varied opportunities within their Bingo Homework. Each task is set on TEAMS in the appropriate 'Unit of Learning' channel.
We will also be setting weekly homework on Doodle Maths, English and Spelling related to our week's learning, and we will have a weekly class battle on Times Tables Rock Stars.
Each week, we expect the pupils to complete their homework on the three Doodle platforms: Doodle Maths, Doodle English and Doodle Spellings (these will be called 'Added Extras' when logging onto these platforms.
In addition to Doodle, we expect the pupils to be reading at least 4 times a week and learning their weekly spellings.

P.E. Days:
This term, the children will need their PE kits in school for a Tuesday and Friday. We suggest the children bring their kit in at the beginning of the week and leave it in school until they finish the week on Friday.
PE Kit:
We ask the children to bring fleeces and jogging trousers as well as outdoor footwear (if required during the colder months of the year), as the children will have an indoor and an outdoor session each week. This should include:
White T-shirt
Navy shorts (indoor PE)
Plimsolls/trainers
Navy or black tracksuit top and bottoms (for colder weather)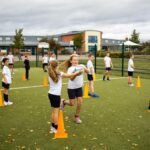 Key Dates:
Monday 19th – Christmas Production (2pm Start)
Tuesday 20th – Christmas Production (2pm and 6:30pm start).
School Diary
Pupils will be receiving a new school diary. This will be complete with important school information and can be used as a point of contact between parents and teachers. These diaries will be checked on a weekly basis. It is therefore the children's responsibility to have them in school every day. Please feel free to comment on the reading children are doing at home. We encourage all parents to make a note of children's reading as prizes will be awarded at the end of each half-term.
Reading is Fundamental. In fact, it is one of the most important ingredients to becoming all that you can be.
Reading develops the brain, provides a window into the world around you and helps you do better in all school subjects. We recommend that children are heard for at least fifteen minutes each night and notes to be made in their planners.