On our Year 4 page, you will find information about our current units of learning, homework, learning challenge questions, PE kit requirements, as well as any other information you may need.
In Year 4, we cover six fantastic units of learning:
Autumn 1: How did Britain change between the end of the Iron Age and the end of the Roman occupation?
During this period of history, Britain underwent significant changes as it transitioned from a society dominated by Celtic tribes to one that was part of the mighty Roman Empire. Through interactive activities and engaging discussions, students will gain a deeper understanding of this fascinating period of British history.
We will explore the key events and developments that took place, including the Roman invasion of Britain and the changes that were made to the country's infrastructure, economy, and culture. We will learn about the resistance of the Celtic tribes and the impact that this had on the Roman occupation.
Autumn 2: Why do so many people go to the Mediterranean for their holidays?
This half-term curriculum on the Mediterranean! This term, we will be exploring why so many people choose to go on holiday to this beautiful region of the world. Through interactive activities and engaging discussions, pupils will learn about the geography and climate of the Mediterranean, as well as the cultural attractions and natural wonders that make it such a popular destination.
States Of Matter Knowledge Organiser
Spring 1: What did the Ancient Greeks bring to the world?
Welcome to our exciting half-term curriculum on Ancient Greece for Year 4 pupils! This term, we will be learning about the incredible legacy that the ancient Greeks have left us. From the Olympic Games to democracy, the Greeks have made significant contributions to the world that we live in today. We will explore the myths and legends of ancient Greece, including the stories of gods and heroes that have captivated audiences for thousands of years. We will also learn about the incredible achievements of the Greeks in areas such as art, architecture, literature, and philosophy, and how their ideas have shaped the world we live in.
Spring 2: How are mountains formed and what causes an earthquake or volcano?
Summer 1: How did the Industrial Revolution shape the UK we know today?
This half term, we will be exploring the fascinating unit of learning of the Industrial Revolution and its impact on modern-day life in the UK. From the steam engine to the textile mills, we will delve into the key inventions and innovations that shaped this period of rapid change and transformation. Pupils will learn about the social, economic, and political consequences of the Industrial Revolution, and how it paved the way for the modern world we live in today…
Ind.Revolution Knowledge Organiser
Summer 2 : How do we energise ourselves in the UK?
In their captivating journey of discovery, our young learners will delve into the fascinating subject of "How do we energise ourselves in the UK?" Through a series of engaging lessons and hands-on activities, our pupils will unravel the secrets behind the various energy sources that power our nation. From wind turbines and solar panels to fossil fuels and hydroelectricity, our students will gain a deeper understanding of how we obtain and utilise energy to meet our needs. Get ready to witness their curiosity ignite as they explore the dynamic world of energy right here in the United Kingdom!
Energise the UK Knowledge Organiser
Electricity Knowledge Organiser
Wind Turbine Knowledge Organiser
Homework:
We endeavour to provide the children with varied opportunities within their Bingo Homework. Each task is set on TEAMS in the appropriate 'Unit of Learning' channel.
We will also be setting weekly homework on Doodle Maths, English and Spelling related to our week's learning, and we will have a weekly class battle on Times Tables Rock Stars.
Each week, we expect the pupils to complete their homework on the three Doodle platforms: Doodle Maths, Doodle English and Doodle Spellings (these will be called 'Added Extras' when logging onto these platforms.
In addition to Doodle, we expect the pupils to be reading at least 4 times a week and learning their weekly spellings.

P.E. Days:
This term, the children will need their PE kits in school for a Tuesday and Friday. We suggest the children bring their kit in at the beginning of the week and leave it in school until they finish the week on Friday.
PE Kit:
We ask the children to bring fleeces and jogging trousers as well as outdoor footwear (if required during the colder months of the year), as the children will have an indoor and an outdoor session each week. This should include:
White T-shirt
Navy shorts (indoor PE)
Plimsolls/trainers
Navy or black tracksuit top and bottoms (for colder weather)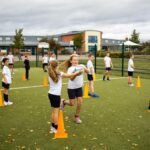 Swimming:
The Schools' Swimming Service is dedicated to providing the opportunity for all children in Nottinghamshire to access swimming.
The Service endeavours to enrich all pupils' swimming experiences and offers participation in gala events.
Key Dates:
Friday – Swimming (weekly)
Meet the Teaching Staff
Mr Bandy-Webb – Much the Miller's Son (4ABW/RT)
Mrs Roy-Garfield – Merry Men (4TRG/RT)
Miss Turner – Merry Men & Much the Miller's
We are also fortunate to be supported by:
Mrs Knowles
Mrs Duckmanton
Miss Kemp (Sports)
Mrs Willis (Language and Music Expert)
The word-lists for years 3 and 4 are statutory (Gov.uk). The lists are a mixture of words pupils frequently use in their writing and those which they often misspell. Some of the listed words may be thought of as quite challenging, but the 100 words in each list can easily be taught within the two years of lower key stage 2 alongside other words that teachers consider appropriate.
In Year 5 and 6 (Upper Key Stage 2, children will have another statutory list of words.
School Diary
Pupils will be receiving a new school diary. This will be complete with important school information and can be used as a point of contact between parents and teachers. These diaries will be checked on a weekly basis. It is therefore the children's responsibility to have them in school every day. Please feel free to comment on the reading children are doing at home. We encourage all parents to make a note of children's reading as prizes will be awarded at the end of each half-term.
Reading is Fundamental. In fact, it is one of the most important ingredients to becoming all that you can be.
Reading develops the brain, provides a window into the world around you and helps you do better in all school subjects. We recommend that children are heard for at least fifteen minutes each night and notes to be made in their planners.
What the research would suggest:
• Parents and the home environment are essential to the early teaching of reading and fostering a love of reading; children are more likely to continue to be readers in homes where books and reading are valued (Clark and Rumbold, 2006).
• Reading for pleasure is strongly influenced by relationships between teachers and children, and children and families (Cremin et al, 2009).