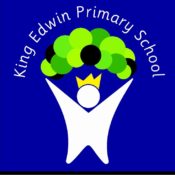 Growing, Learning & Achieving Together'
King Edwin Primary School offers a rich, varied and inclusive learning experience which covers every aspect of a child's development, extending well beyond the classroom and reaching out into our local and global communities.
Our school Vision represents the very 'essence' of King Edwin Primary School.  Written and developed by children, staff, parents and governors; our vision underpins all that we are and aspire to be.
Our Vision – The King Edwin Way…
We are all part of a close school community committed to ensuring that King Edwin is a caring and inclusive school where children develop a love of learning which will stay with them for the rest of their lives. We believe in providing an engaging, challenging and creative education within a safe, nurturing environment. By developing children's self-esteem, independence, resilience and motivation our children are able to grow, learn and achieve together. This is a school where children are encouraged to 'dream big' and follow their dreams, safe in the knowledge that we are fully behind them every step of the way. Our vision becomes reality because all stakeholders at KEPS are fully engaged and emotionally invested in realising our vision.
King Edwin 'High 5 Values'
| | |
| --- | --- |
| | |
| Respect: | We are a respectful, happy, safe and caring school where all beliefs, opinions and property are respected. |
| Good Choices: | We support children to make well informed life choices and decisions. We encourage a healthy life style, aspirational goals and positive behaviour choices that result in successful life outcomes. |
| Excellence: | We encourage ambition, aspiration and a personal drive to be the best that we can be. |
| Determination: | We take pride in all that we do, showing determination, perseverance, a positive attitude and resilience that enables us to achieve our goals. |
| Creativity: | We encourage creative learning through developing our imagination and our ability to generate new and different ideas. We celebrate and nurture skills of inventiveness and individuality. We utilise our problem-solving and reflection skills. |
Our Vision and Values are the guiding principles that embody everything associated with being a 'KING EDWINNER' and a member of TEAM KEPS. We celebrate this with a special 'HIGH 5' when our values are demonstrated and we 'GROW, LEARN & ACHIEVE TOGETHER'