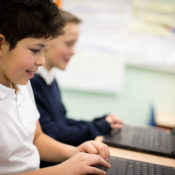 Concerns
If you or your child have any online concerns, we can help with at King Edwin… please try to save any evidence and then contact us. Here you will find reporting links and advice to keep us all safer on-line.
[/vc_column][/vc_row]
It is our mission to empower teachers, school staff, parents and carers with the knowledge they need to keep children safe online.
We aim to be at the forefront of educational awareness of internet safety in the UK. We make learning fun, interactive, challenging and memorable.
We are delighted to announce our partnership with National Online Safety.
[/vc_column][/vc_row]
Safer Internet Day 2019
Safer Internet Day 2019 will be celebrated globally on Tuesday 5th February with the slogan:
'Together for a better Internet'.
Coordinated in the UK by the UK Safer Internet Centre the celebration sees hundreds of organisations get involved and join a national conversation about using technology responsibly, respectfully, critically and creatively.
The day offers the opportunity to highlight positive uses of technology and to explore the role we all play in helping to create a better and safer online community. It calls upon young people, parents, carers, teachers, social workers, law enforcement, companies, policymakers, and wider, to join together and help to create a better internet.
The UK Safer Internet Centre invites everyone to join Safer Internet Day supporters across the globe to help create a better internet on Tuesday 5th February 2019, and throughout the whole year!
[/vc_column][/vc_row]
What can you do at home?
Safer Internet Day is a fantastic opportunity to reflect as a family about how you can use the internet and technology safely, responsibly and positively. Whether you are a parent, grandparent, foster carer, aunt, uncle or older sibling – we can all play a role in empowering children to enjoy their time online!
These resources for parents and carers include ideas, information and activities to help you talk to your children about how to use the internet and technology positively and safely…
[/vc_column][/vc_row]
[/vc_column][/vc_row]
On-line Reporting & Advice
The Click CEOP button is an asset of the National Crime Agency's CEOP Command. The CEOP Command works to protect children from the harm of sexual abuse and exploitation both online and offline.
[/vc_column][/vc_row]
ThinkuKnow is a website that links with CEOP.  It provides age appropriate advice and support for children and parents and hosts some thought provoking cartoons and animations for children
[/vc_column][/vc_row]
We tell our children to share but online it's different. In fact, sometimes sharing online can be dangerous. That's why the NSPCC have joined forces with O2 to ask parents to be Share Aware and keep children safe online
[/vc_column][/vc_row]
Click this image to go to the NSPCC ShareAware App review page. A lot of useful information about age restrictions and safety pertaining to many of the most popular 'Social Media' Apps.
[/vc_column][/vc_row]
Parent Info:
Parent Info is a collaboration between CEOP and Parent Zone.
Parent Zone was founded in 2005 and has a track record of providing information, support and advice to parents. In recent years, Parent Zone's work has focused on the impact of digital technologies on families. We provide information, resources and training for parents and those who work with them.
[/vc_column][/vc_row]
Instagram is a photo-sharing app with a whole lot of emphasis on the sharing – more like photo-enhanced socializing. It's a way of communicating mainly through images. Young people like taking, enhancing, sharing and commenting on photos – but they're not just commenting; they're socializing with photos, creating ongoing mixed-media conversations that include plenty of likes and links.
Snapchat is a picture sharing app that is hugely popular with young people. As of May 2017, the app was attracting 166m users a day. It is often referred to as 'the sexting app' – even though there's no research showing that to be true, and plenty of anecdotal evidence suggesting that isn't the reason most teens use it. The app focuses on capturing 'moments' quickly with users taking images and videos and sending them instantly.
Pokémon Go has become a gaming phenomenon – the augmented reality game can transform familiar surroundings into adventure playgrounds and its simple rules make it accessible for families to play together. But with reports of accidents, muggings and even the discovery of a dead body, we examine what parents can do to combat Pokémon danger
Imagine Instagram, YouTube and karaoke rolled into one, and you just about get Musical.ly. The latest app to get massively popular off the social video craze, Musical.ly lets you make and share music videos. Pick your song from within the app and dance or sing along for up to 15 seconds, choose from a variety of editing effects and share your video or save it privately.
WhatsApp is a messaging app that allows you to send messages for free, given you have an internet connection (either over Wi-Fi or via mobile data). It's available for iPhone, BlackBerry, Android, Windows Phone and Nokia. You can send normal text messages, audio clips, videos, photos; plus there is an enormous range of fun emoticons and symbols. Some are so wonderfully bizarre you wonder if anybody ever has the opportunity to use them. It's incredibly popular worldwide, and has over 900 million users.
July saw the launch of the YouTube Kids app in the UK and Ireland.
Download it and you – and the small people in your life – will have access to child-friendly content that's been pre-filtered to take the nasties out.
The response so far from parents and those who work with families has been largely positive, and we can see why.
[/vc_column][/vc_row]
Digital Parenting Magazine:
[/vc_column][/vc_row]
Millions of families have received Vodafone's Digital Parenting magazine for free since 2010 and the latest issue is available now!
Available online and given for free to schools and other organisations that work with young people; it's packed with information and advice about bullying, peer pressure, screen time and much more. Why not take a look right now?
[/vc_column][/vc_row]
[/vc_column][/vc_row]
[/vc_column][/vc_row]
[/vc_column][/vc_row]